Why book on this website?
Best cancellation policies
Early departure is possible without penalties
Welcome drink upon arrival
Book now
Select the dates and start dreaming about Desenzano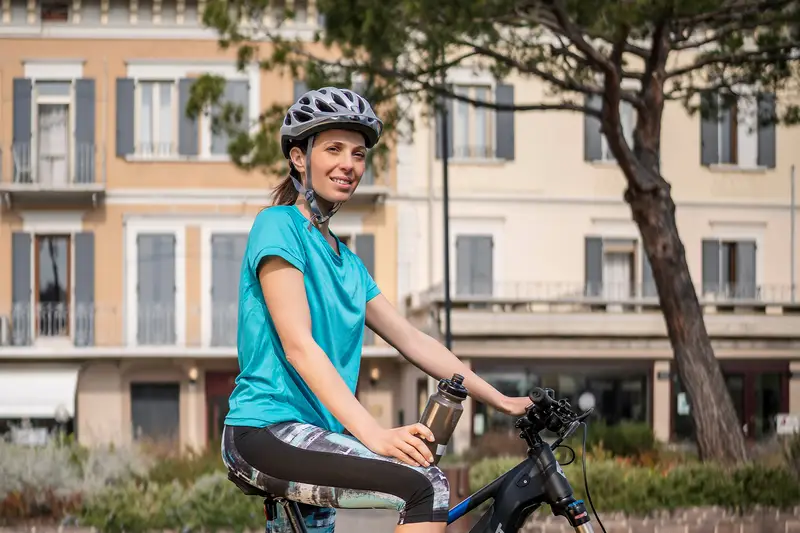 Bike Tour and rentals
Hotel Mayer & Splendid offers you the opportunity to explore the Lake Garda area on fantastic bike tours. In fact, this bike hotel in Desenzano has a park with about 40 bikes that can be rented, including e-bikes and traditional bikes. IFurthermore, our collaboration with New Level MTB allows you to discover the most beautiful itineraries in the area with certified guides and customisable tours created ad hoc.
Hotel Mayer&splendid Desenzano Bike 02
1/4
Our bike services
Professionalism and high-end bikes for your tour
E-MTB / e-Bike rentals
You can rent electric mountain bikes and e-Bikes made by Trek Bergamot and Ktm for green experiences through the moraine hills and Lake Garda.
City-bike rentals
Explore Desenzano with a relaxing bike ride, the ideal way to get to the beaches and neighbouring towns, without the stress of driving a car.
Racing and gravel bike rentals
To complete the offer, asphalt lovers will also find racing and gravel bicycles available to meet the needs of expert cyclists in the best possible way.
Individual and group tours with certified MTB guide
New Level MTB certified guides will guarantee you the best experience in terms of professionalism and possible alternatives ranging from simple itineraries or more specific and technical trails.
Technical assistance with shuttle
The hotel has a private shuttle service that, in case of any mishaps (punctures or accidents), will come and pick you up to solve the problem in the best possible way.
Public or private boats
It is possible to use public or private boats to reach the best bike spots in the Lake Garda area.
Bike corner
The Bike Corner at the Hotel Mayer & Splendid allows you to carry out routine maintenance on your bike.
Bike storage area inside the hotel
We have a storage area inside the hotel where you can store your bike or mountain bike safely.
Laundry service
Cyclists and mountain bikers staying at the Hotel Mayer & Splendid can take advantage of our laundry service.
Sports and relaxing massages
Relax at the end of the day in the hotel's wellness area. You can enjoy our sauna and mini-pool, as well as massages and specific treatments dedicated to athletes (for a fee).
Energy food and energy drinks
Energy bars and energy drinks are available to our guest hikers, bikers and mountain bikers (for a fee).
Hotel Mayer & Splendid
Piazza Matteotti 40 - Desenzano Del Garda (BS)
Mayer Hospitality e Leisure SRL
- VAT 04479910988